A better future for almonds
For us, sustainability is about creating a thriving industry that has a positive impact on the environment, local communities and the economy. By striving towards continuous improvement, we will continue to grow an industry that's better for the planet, the economy, local communities and our growers.
Increasing irrigation efficiency
Like other agricultural industries, almond production requires water. As an industry, we understand that water is a precious resource and must be used wisely. Most Australian almond farms are situated along our river systems, which means our growers see the effects of drought and flood firsthand. We help our growers improve their irrigation efficiency by providing workshops and training.
Bees and Pollination
Honeybees are essential to almond production. Australian almond growers implement a range of bee friendly practises throughout the year and especially during bloom to support the health and productivity of bees.
Bee Friendly Farming
In 2022 the Almond Board of Australia started a partnership with Bee Friendly Farming Australia, to promote their bee-friendly certification program that works with land managers to help protect, preserve and promote pollinator health including both honeybees and native bees. Orchestrated by the Wheen Bee Foundation, Bee Friendly Farming helps ensure the future of both pollinators and sustainable agriculture.
The Almond Board of Australia's own Almond Centre for Excellence (ACE) Orchard at Loxton, SA is becoming a showcase for embracing Bee Friendly Farming principles. The industry has so far been a great supporter of the program, with approximately 42% of almond orchards already certified including the ACE Orchard.
Reducing our Impact
Australian almond growers are committed to reducing their negative impact on the environment. This includes reducing waste and carbon emissions, striving for more efficient irrigation, increasing biodiversity, supporting pollinator health and improving pest management and biosecurity. As an industry, it's important for us to strive for continuous improvement and seek to be the best we can.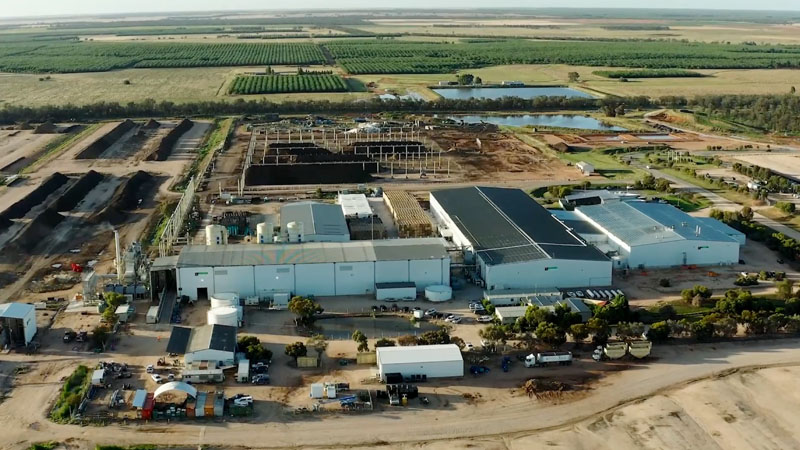 Whole Orchard Recycling
Whole Orchard Recycling (WOR) is a process where Almond trees at the end of their lifecycle are mulched and returned to the orchard floor. Research conducted in California almond orchards has identified significant advantages of WOR, including increased soil matter and increased water holding capacity.
Neale Bennett hosts the first WOR study of its type in Australia at his Merbein property. The study operated bu the South Australian Research Institute seeks to identify the benefits in Australia.
Closing the Loop
When it comes to waste almonds have natural advantage due to their long shelf life. However, reducing farm, processor and food waste remains a priority for the Australian almond industry.
Select Harvests are committed to making sure nothing that can be re-used goes to waste. Located just outside of Mildura in North-West Victoria, Select Harvests' Carina West processing plant operates on a closed loop system, utilising almond hull and shell to produce power, compost, and organic fertiliser.
Our people
The Australian almond industry is committed to creating a safe, ethical, and fair workforce. We value active engagement between growers, processors and the communities that support them. We are proud of the collaborative nature of the Australian almond industry and our grower's wiliness to share information and help one and other.
Trademutt/Mental Health
The health and wellbeing of our people is important to us. We understand the pressures of working alone and in remote environments. Income from farming can be strongly influenced by external factors, and stress caused by unfavourable conditions can have a negative impact on mental health. While the occurrence of mental illness in regional areas is comparable with major cities, people in regional areas often have reduced access to mental health services. As part of our commitment to supporting the mental health of our industry and the communities that support them, the Almond Board of Australia has partnered with social justice work wear company, TradeMutt.